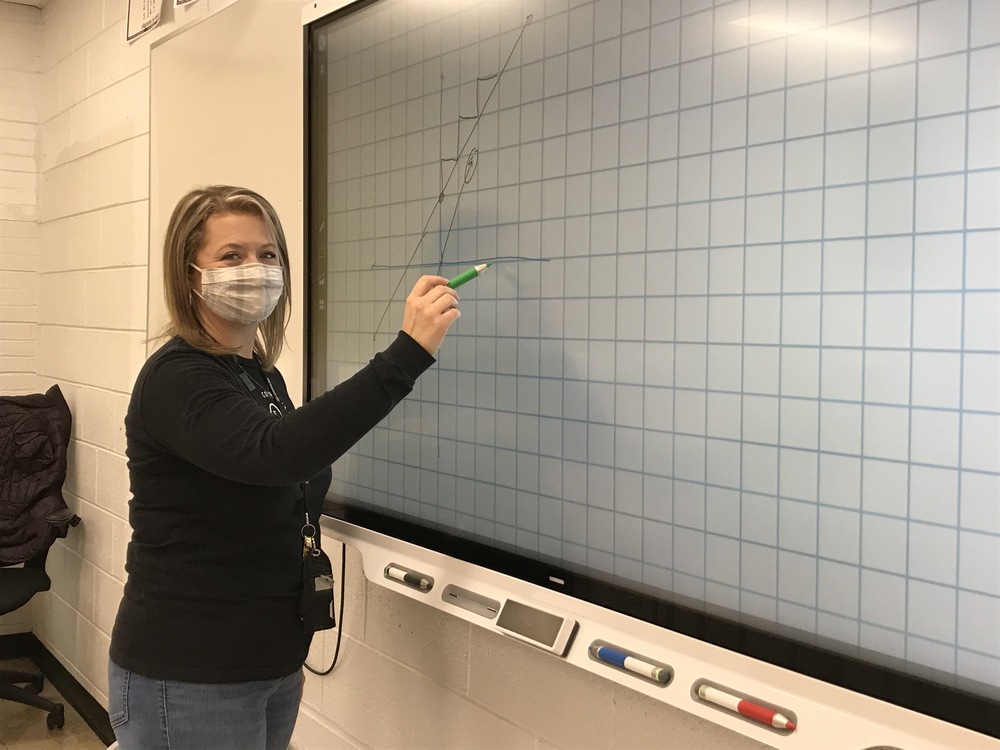 Staff Member of the Month: Lukas shares the formula for success
Amy Maciaszek
Wednesday, November 11, 2020

McHenry High School Instructor Stefanie Lukas knew in high school that she wanted to be a teacher. The only tough decision was figuring out which subject to teach.
Her students are likely glad she chose mathematics since many of them nominated her to be the first 2020-21 Staff Member of the Month for West Campus.
In nominating Lukas for the award, students said she brightens their days while working hard to make sure they are understanding the material.

"She makes me smile every single day, and it makes me inspired by her even more," said senior Maxwell DeCicco. "She loves what she does, and wants us to reach our fullest potential."
Adds senior Lilianna Adams, "throughout online learning, Mrs. Lukas has been really understanding and a good, hard-working teacher."
Lukas, who is in her 14th year as a teacher at McHenry High School, said digital learning during a pandemic has been challenging. But, she said, she's also seen a lot of creativity in terms of teachers finding unique ways to connect with students digitally.
Lukas, who is currently teaching AP Statistics and Algebra 2, said she has found using Desmos, an online math platform, helpful in teaching online. Similar to Pear Deck, another online teaching tool, Desmos allows her to see students' work as they are doing it.
While her students credit Lukas for inspiring them, Lukas said she's inspired by watching them grow and learn. She particularly enjoys seeing students do well on the AP exam and earn credit towards college.
"Just seeing the growth in the students and seeing them get that college credit," Lukas said. "That's so rewarding."
Lukas, who grew up in Lindenhurst and graduated from Antioch High School, said she settled on being a math teacher after seeing that there was a shortage of teachers in that subject. After high school, she went on to Illinois State University where she earned a bachelor's degree in math education.
In 2013, she earned a master's degree in educational leadership from Concordia University.
During her time as a teacher, she's taught many different types of math classes. "I feel like I've done it all," she said.
To see the video made for Lukas, click here.
The MCHS Staff Member of the Month program honors a staff member from East Campus and West Campus each month during the school year. Thanks to the support from Meat and Potato Eatery and Brunch Cafe, each award recipient gets a gift certificate as well as a plaque.
To learn more about the program, click here. To make a nomination, click here.