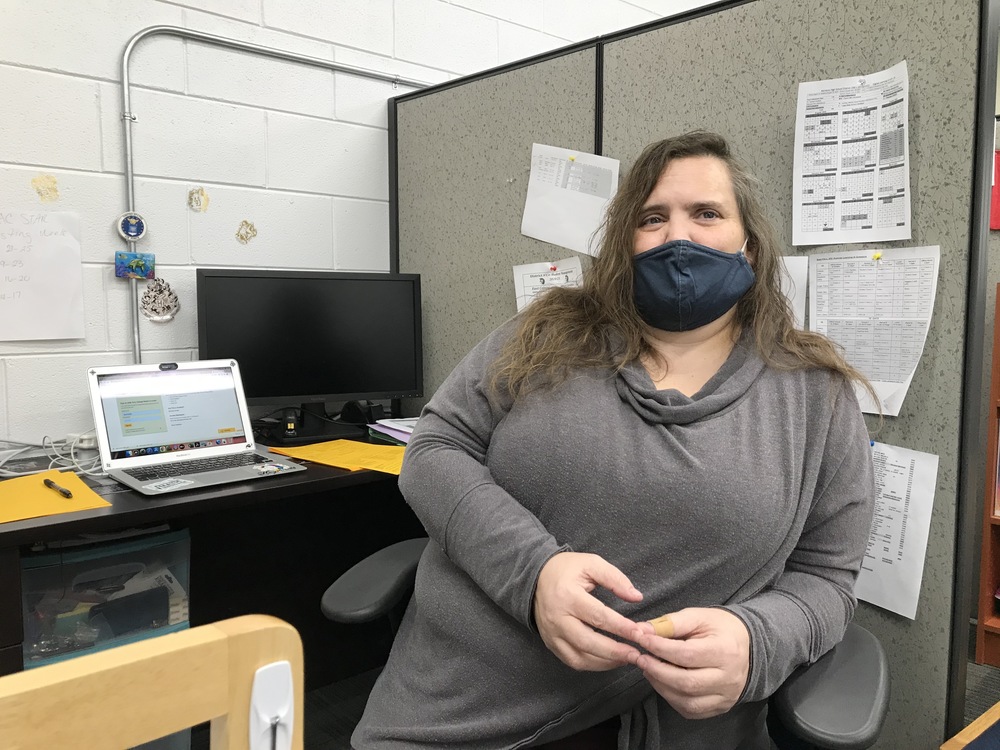 Staff Member of the Month: Greene's flexibility earns praise
Amy Maciaszek
Thursday, January 07, 2021

Julie Greene, instructional assistant for McHenry High School, is used to working in-person with students. But since COVID-19 and digital learning, she's often had to make do with screenshots and email.
Her ability to find creative ways to support students and help out wherever needed were noted when co-workers nominated her to be the October Staff Member of the Month for East Campus.
"She goes above and beyond what her role is. She takes on tasks that are given to her without fail," said Heather Weisheit, instructional assistant.
Fellow Instructional Assistant Tracie Hogel said Greene often has to quickly change gears throughout the day depending upon what the need may be. "She's 100 percent all about the students," Hogel said.
Greene, who grew up in southern Indiana, has been an instructional assistant at East Campus for five years. She works one-on-one with students who need additional support, and she also handles administrative tasks and paperwork. She said the kids inspire her as an educator.
"When they finally get something they're struggling with, and you see that spark -- it makes it all worth it," Greene said.
Greene has a bachelor's degree in elementary education from Indiana University, Bloomington, and worked in similar roles in Indiana for 17 years. Greene said she initially went to study engineering but later switched to education.
She enjoys the variety of tasks her job provides. These days, she's also working with some of the disengaged students who come to school in small groups. "Basically anything they ask I do," Greene said.
Click here to see the video announcing Greene's award.
The MCHS Staff Member of the Month program honors a staff member from East Campus and West Campus each month during the school year. Thanks to the support from Meat and Potato Eatery and Brunch Cafe, each award recipient receives a gift certificate as well as a plaque.
To learn more about the program, click here. To make a nomination, click here.