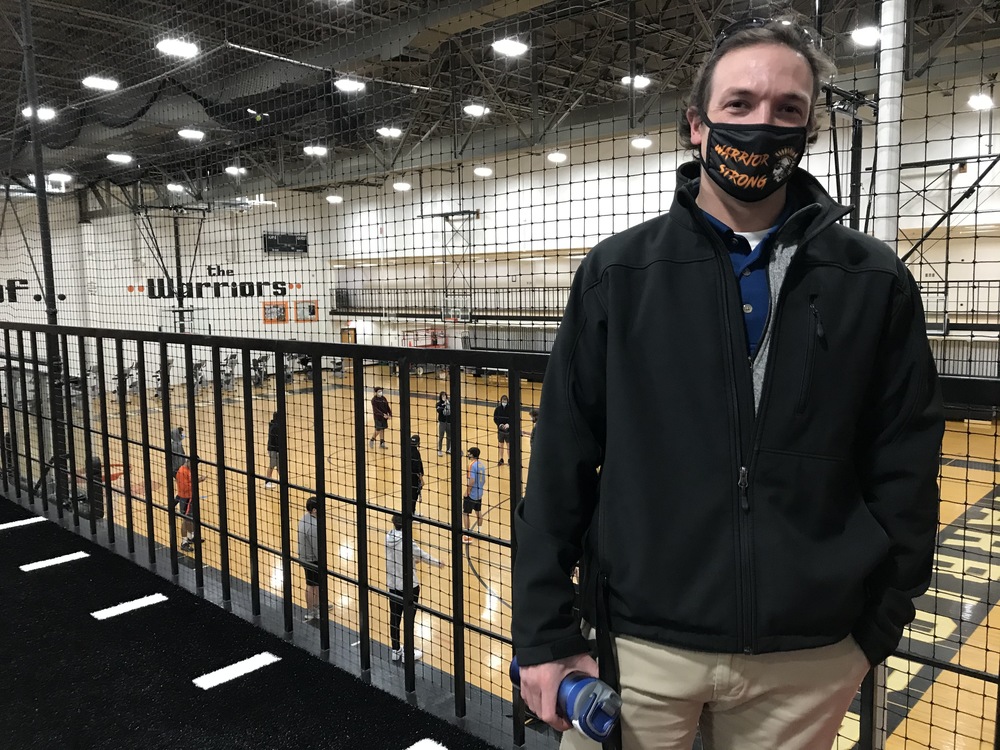 Staff Member of the Month: Stegenga 'makes learning fun,' students say
Amy Maciaszek
Thursday, February 04, 2021
Teaching during a pandemic may not be ideal, but social science Instructor Andrew Stegenga is trying to make the best of it. One thing he says he's gotten better at doing is quickly shifting gears to focus on strengthening his connections with students.
His students credit his efforts to make them smile in the midst of digital learning and mask mandates for helping to keep them engaged with learning in this time of COVID-19. Stegenga was named East Campus Staff Member of the Month for November.
"He knows how to deal with us and if we don't feel right he will make us laugh. He makes us laugh either way," said freshman Sofie Navarette, who nominated Stegenga for the award.
Fellow freshman Caroline Krapf agrees, saying "He makes learning fun."

Stegenga, who teaches Issues of the 21st Century and AP Human Geography, said he's worked hard in the last several months to find that fine line between making sure kids are learning and being responsible, and also enjoying the challenges.
"It has made me grow. I've learned a lot of things," Stegenga said.
This year he's really focused on keeping the line of communication open with students.
Stegenga, a Crystal Lake native and graduate of Crystal Lake Central High School, actually went to college at Bethel University in St. Paul, Minn., with the idea of studying medicine. He's always enjoyed studying the military and conflicts, so he quickly changed his focus to social studies education and history.
After getting his bachelor's degree, he became a certified teacher. He did his student teaching in St. Paul before coming to McHenry to work as a substitute teacher and aide.
Stegenga has been teaching at MCHS full-time for seven years and credits retired social science Instructor Sandra Dwire with mentoring him. He's planning to pursue a master's degree in education leadership.
In addition to teaching, he's head girls soccer coach, and also advises the Environmental Club and the Bass Fishing Club. Stegenga often travels between East Campus and West Campus, but next year he'll be teaching at East when it becomes the Freshman Campus.
Click here to see the video announcing the award.
The MCHS Staff Member of the Month program honors a staff member from both East Campus and West Campus each month during the school year. Thanks to the support from Meat and Potato Eatery and Brunch Cafe, each award recipient receives a gift certificate as well as a plaque.
To learn more about the program, click here. To make a nomination, click here.