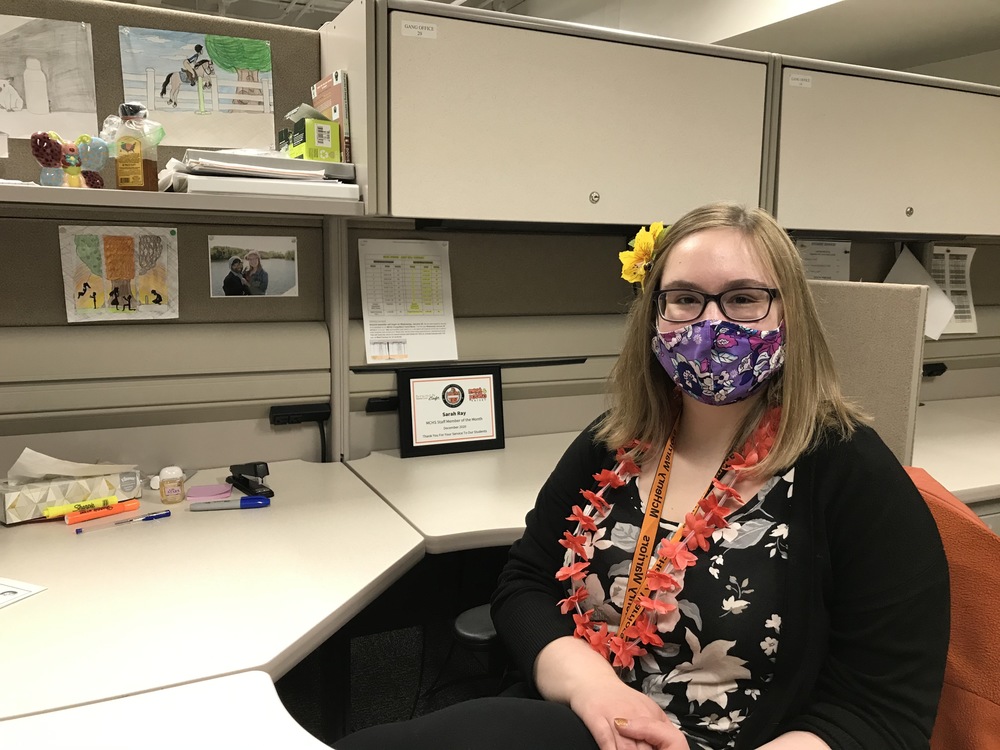 Staff Member of the Month: Ray brings positive energy to West Campus
Amy Maciaszek
Tuesday, February 16, 2021
Sarah Ray had her work cut out for her when she started with McHenry High School this year.
Students were learning remotely as teachers and staff struggled to reach out to them during a global pandemic.
Enter Ray, a new teacher and long-term building substitute at West Campus, with a purpose to connect with students and help them learn and grow. Her colleagues credit her with turning the page for the most disengaged students so they can thrive despite all of the challenges.
Several colleagues cited her energy and willingness to go above and beyond while nominating her to be West Campus Staff Member of the Month for December.

"She's kind of a jack-of-all-trades for all of us," said Greg Eiserman, assistant principal at West Campus.
Eiserman said Ray has eagerly taken on every challenge, from making attendance calls to meeting individually with struggling students to filling in anywhere she's needed.
West Campus school Counselor JR Bocian said Ray has even met with students over Zoom in the evenings and during breaks.
"I feel that Sarah embodies what it means to be a McHenry Warrior and should be recognized for ALL of her efforts," Bocian said.
Ray said developing positive relationships with students comes naturally to her and drew her to teaching. Growing up in Elk Grove Village, Ray has worked for Jarosch Bakery for many years, and often trains new employees.
While she enjoys all of her teaching assignments, Ray said her favorite is social science. She graduated Benedictine University with a political science degree and considered teaching at the college level. Then she decided to teach younger students, and went back to Elmhurst University to study education and earn a teaching license.
"It was always there -- wanting to be a teacher," Ray said.
She has also coached bowling at Elk Grove High School, and she's glad to be helping again in McHenry. Now that McHenry students are working in the hybrid learning model, she's helped fill in for in-person classes, too.
Click here to see the video announcing the award.
The MCHS Staff Member of the Month program honors a staff member from East Campus and West Campus each month during the school year. Thanks to the support from Meat and Potato Eatery and Brunch Cafe, each award recipient receives a gift certificate as well as a plaque.
To learn more about the program, click here. To make a nomination, click here.