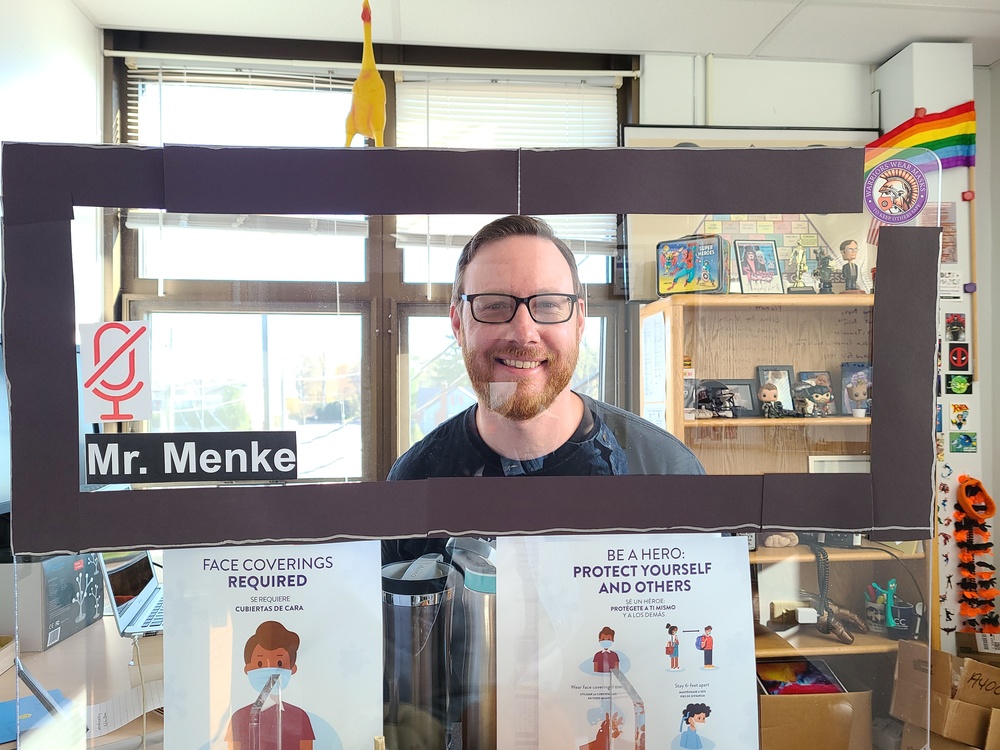 Staff Member of the Month: Menke finds ways to reach students
Amy Maciaszek
Wednesday, March 10, 2021
When you walk into McHenry High School school Counselor Curtis Menke's office at East Campus, you might see a photo of Chicago Bears legend Walter Payton. Or you might notice a shield from Marvel's Captain America. Or you may see an item of McHenry Warriors gear.
Menke, meanwhile, is likely watching where your eyes go. Adorning his office with special items is just one way he tries to reach out to students.
"Sometimes I'll watch a student's eyes to see where they land," Menke said. "I try to find a way to connect with anybody. Whatever connects."
Menke's effort to make those connections with students was cited often by those celebrating Menke's selection as East Campus Staff Member of the Month for February. In his 16th year with McHenry High School, Menke is known for his orange pants and great sense of humor. He's also known for being a safe place for students to go when they need a sounding board

"He understands that times are crazy right now and almost all the students are stressed out," said senior Hannah Busch in her nomination for Menke.
English Instructor Dane Erbach said he often hears from students about how Menke helps or inspires them. "Mostly what I hear is that Mr. Menke is a shoulder to cry on," he said.
A native of Grant Park near Kankakee, Menke didn't always plan to be a school counselor. He initially went to school to study economics, but learned he enjoyed working with young people from working with YMCA summer camps and at Build-A-Bear.
"I was the bear on occasion, which I thought was an absolute blast," he said.
Menke ultimately earned a bachelor's degree in psychology from Olivet Nazarene University then got a master's degree in counseling from Northern Illinois University. "I discovered I had a knack for listening to people," Menke said.
A school counselor at West Campus for 14 years Menke moved to East Campus two years ago. He understands how difficult it can be to settle on a career field.
Menke's advice for students is to try different things, and to not worry about not having it all figured out right away. Menke said he just tries to make sure students aren't ignoring the need to plan for the future.
"It's OK to struggle and grapple with career exploration," he said.
In addition to working with students as a school counselor, Menke also served as adviser to the student council for 14 years before advising the Comics, Manga and Fandoms Club.
To see the video honoring Menke, click here.
The MCHS Staff Member of the Month program honors a staff member from East Campus and West Campus each month during the school year. Thanks to the support from Meat and Potato Eatery and Brunch Cafe, each award recipient receives a gift certificate as well as a plaque.
To learn more about the program, click here. To make a nomination, click here.