EDIT MAIN
WELCOME TO THE BLENDED JAZZ BAND!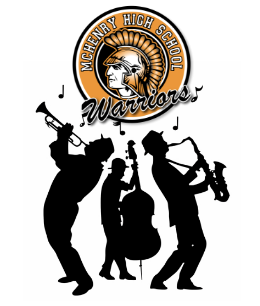 MCHS District 156 is proud to present Zero Hour Blended Jazz Band. During the 2017-18 school year, Jazz Band will be moved to Zero Hour at East Campus. This move will allow more musicians to take Jazz Band as it will limit conflicts with normally scheduled courses. In addition to moving Jazz Band to Zero Hour, this course will also be a 'blended learning' course. Students will only need to attend two days a week. The remaining instructional time will completed through formative activities using district technology. This 'blended' experience will provide daily individual feedback to students and will also limit the early mornings required of an already very busy group of students.
Zero Hour and Ensemble Schedule
For the 2017-18 school year, Jazz Band will be divided into two sections; Jazz Ensemble and Jazz Lab. Students will be placed in a section based on auditions. Due to instrumentation needs, some students may be asked to sit in both ensembles. The workload for these students will be adjusted.
Zero Hour times: 6:20-7:16 at East Campus
Jazz Ensemble: Monday/Thursday
Jazz Lab: Wednesday/Friday
Student Transportation
Students participating in the Zero Hour Jazz Band will have to provide their own transportation to East Campus and be on time to class on a daily basis. Students may drive to East Campus and then drive to West Campus after Zero Hour for the beginning of the school day. The district will also provide a shuttle to West Campus prior to 1st period.
Why Zero Hour?
Over the past several years, a large number of students, particularly upperclassmen, have been unable to fit Jazz Band into their schedule. This is a result of either too many required classes or a conflict with a different class. Moving the class out of the regular schedule will increase opportunities for students to participate in Jazz Band.
Curricular Uses for the Chromebooks in Music
The Jazz Band curriculum will be a blend of face-to-face instruction and online activities provided by Mr. Hile. Mr. Hile will assign activities primarily through Smart Music, which will allow him to give students consistent and specific feedback. Students will be expected to record and submit assignments to Mr. HIle but can complete these assignments on their own time according to the course syllabus. The district will provide a Chromebook for all Jazz Band students pursuant to and subject to the terms of this manual.