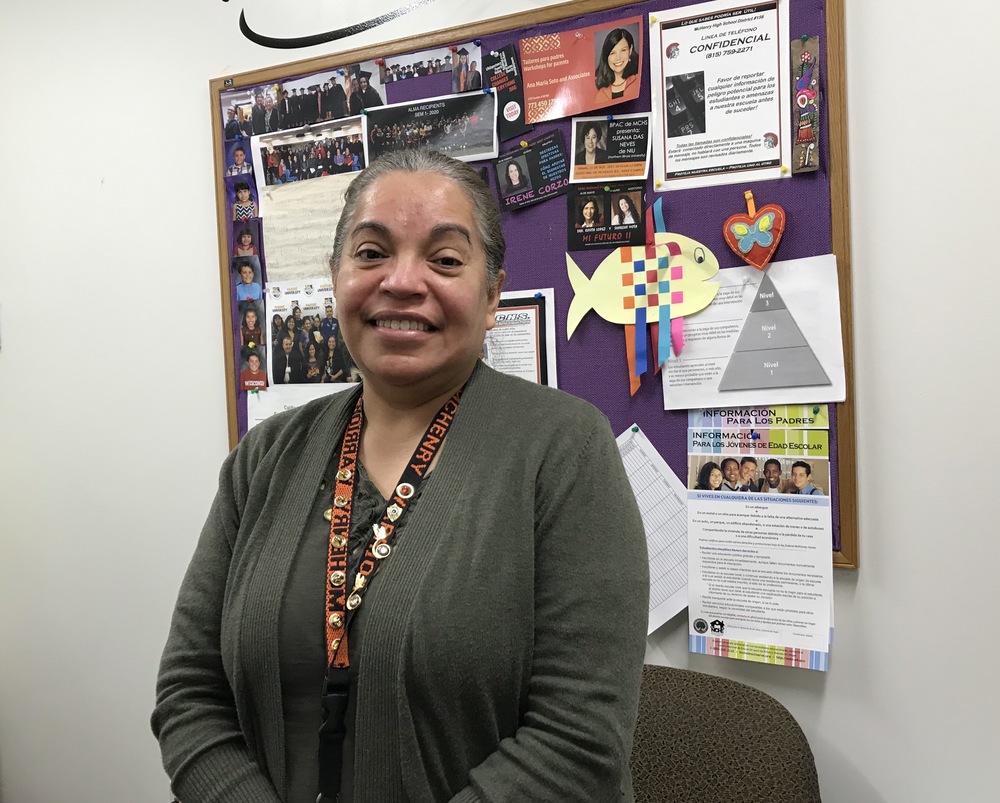 Staff Member of the Month: Ortega smoothes communication challenges for Spanish-speaking families
Amy Maciaszek
Friday, February 05, 2021
"¿Cómo está, señor?" asks Lorena Ortega, bilingual parent liaison for McHenry High School, on a recent morning while helping a parent work out student bus details.
With the school system starting hybrid learning in January, each day is a busy one for Ortega. Not that she wasn't busy before. COVID-19 added new layers of communication with families and students.
For Spanish-speaking families, Ortega is an important bridge. Her job as bilingual parent liaison means she helps translate and interpret critical school information.
"I'm their link, you could say," Ortega said.
Her extra efforts earned her praise from fellow school staff members, and led to her selection as West Campus Staff Member of the Month for November. "Her ability to connect with families is astounding," noted Stephanie Zarinana, school counselor at West Campus.
In her nomination, Zarinana noted that the award for Ortega is long overdue. "I'm still in awe at how she keeps raising the bar higher and higher," Zarinana said.
Ortega, a fixture at West Campus since 2005, currently works with about 120 English Learner students and more than 300 families through the Bilingual Parent Advisory Committee (BPAC). She has also worked as a bilingual instructional assistant at West Campus, helping students in the classrooms.

These days, much of the Spanish communication comes through Ortega. Her work with the advisory committee also allows her to help plan parent support events for Spanish-speaking families. "I love what I do," Ortega said.
Ortega, whose own parents speak only Spanish, remembers how difficult it was for them to keep up with the school information when she was growing up in Palatine. After high school, Ortega worked for Motorola and studied elementary education before deciding to come to McHenry High School as a bilingual instructional assistant. In addition to helping Spanish-speaking families, she also works with English Learner students, particularly with visits to school counselors, social workers and other staff.
Click here to see the video announcing her award.
The MCHS Staff Member of the Month program honors a staff member from East Campus and West Campus each month during the school year. Thanks to the support from Meat and Potato Eatery and Brunch Cafe, each award recipient receives a gift certificate as well as a plaque.
To learn more about the program, click here. To make a nomination, click here.