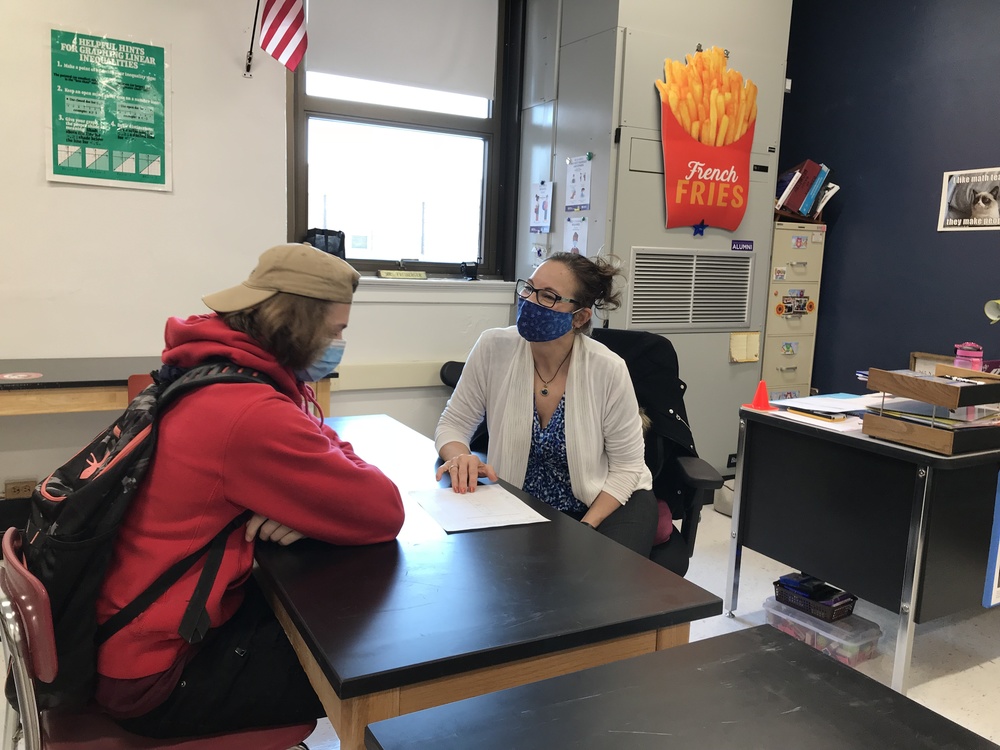 Staff Member of the Month: Freiberger enjoys watching students grow
Amy Maciaszek
Friday, February 19, 2021
Katherine Freiberger, a McHenry High School teacher for 31 years, often helps out in the book room distributing textbooks to East Campus students at the beginning of the school year. When she saw a senior student, she'd announce, "senior in the house," to everyone within earshot.
This year, she wasn't able to do that, due to new safety procedures in place for COVID-19. It's one of the things she misses the most with this unusual year.
"It's not the big things. It's the little things that mean so much," Freiberger said.
Frieberger's willingness to do those little things was just one of the reasons students and colleagues say she's deserving of the East Campus Staff Member of the Month award for December.
Ashley Ramon, member of the Class of 2023, said Freiberger -- known as "Frei" -- helped her with classes and offered her plenty of positive encouragement. "She is full of great vibes," Ramon said.
Other students and colleagues note the work she has put in as adviser for many years for the National Honor Society at East Campus. Freiberger, a math interventionist at East Campus, said she especially appreciates the accolades from the NHS students that since so many of their big events had to be cancelled this past year due to COVID-19.
Freiberger said she's taught just about everything over the years and advised many activities. But she said teaching math one-on-one in high school and working with the National Honor Society are among her favorites. She particularly enjoys keeping tabs with former students, and even teaching the children of former students.
"This is my niche," she said. "It's like, where did the time go?"
A Carpentersville native, Freiberger's own high school was Irving Crown, which is now Dundee-Crown. She was also very involved in the National Honor Society in high school, in addition to other clubs.
She attended University of Wisconsin-Whitewater where she earned a bachelor's degree in social sciences and psychology. She has a master's degree in special education from Northern Illinois University.
This year is a little bittersweet since she's planning to retire at the end of the school year. As she reflects on her great memories, she said she's hoping to do some substitute teaching and spend time with her granddaughter.
Click here to see the video announcing the award.
The MCHS Staff Member of the Month program honors a staff member from East Campus and West Campus each month during the school year. Thanks to the support from Meat and Potato Eatery and Brunch Cafe, each award recipient receives a gift certificate as well as a plaque.
To learn more about the program, click here. To make a nomination, click here.