The McHenry County Department of Health (MCDH) has partnered with McHenry County school superintendents to develop School Metrics Interim Guidance that uses county-level health metrics to assist school officials in evaluating transitions between virtual, hybrid, or in-person learning models. The McHenry County School Metrics are intended to be used in conjunction with the ISBE and IDPH Revised Public Health Guidelines for Schools.
McHenry County School Metrics Dashboard

Guidelines for Determining Level of Community Transmission
CDC's Guidance for COVID Prevention in K-12 Schools refers to "community transmission levels" throughout the guidance document. The level of community transmission (e.g. low, moderate, substantial, or high) for McHenry County is based on incidence rate and test positivity as summarized in the table below. If the two indicators suggest different transmission levels, the higher level is selected:

School Metrics
Incidence Rate and Test Positivity are updated daily, Monday-Friday between 4 p.m. and 6 p.m. All data is presented at the county level and is provisional and subject to change. Click to view the Updated School Metrics Chart.
The MCHD School Metrics are only one factor in the decision-making process to determine if MCHS will need to increase mitigation efforts or take more restrictive measures. Staffing our school buildings, facility management, and onsite COVID-19 cases also factor in our ability to stay open for in-person instruction. You can also view county and regional metrics below:
Illinois Department of Public Health Region 9 Positivity Rate
Illinois Department of Public Health - School Guidance McHenry County Positivity Rate
Illinois COVID-19 data by Zip Code
MCHS Weekly COVID-19 Case Count
In addition to providing a regional look at COVID-19 cases, this page also displays confirmed positive COVID-19 cases of District 156 staff and students, both remote and in-person, and will be updated weekly.Due to privacy laws (HIPAA, FERPA), District 156 is unable to share identifying information about individuals who tested positive for COVID-19. District 156 will notify any staff member or the family of any student(s) considered a close contact in a COVID-positive case. In addition, we will send out a general notification to our school community if a positive case is confirmed and if that individual(s) was present at one of our school buildings or MCHS programs.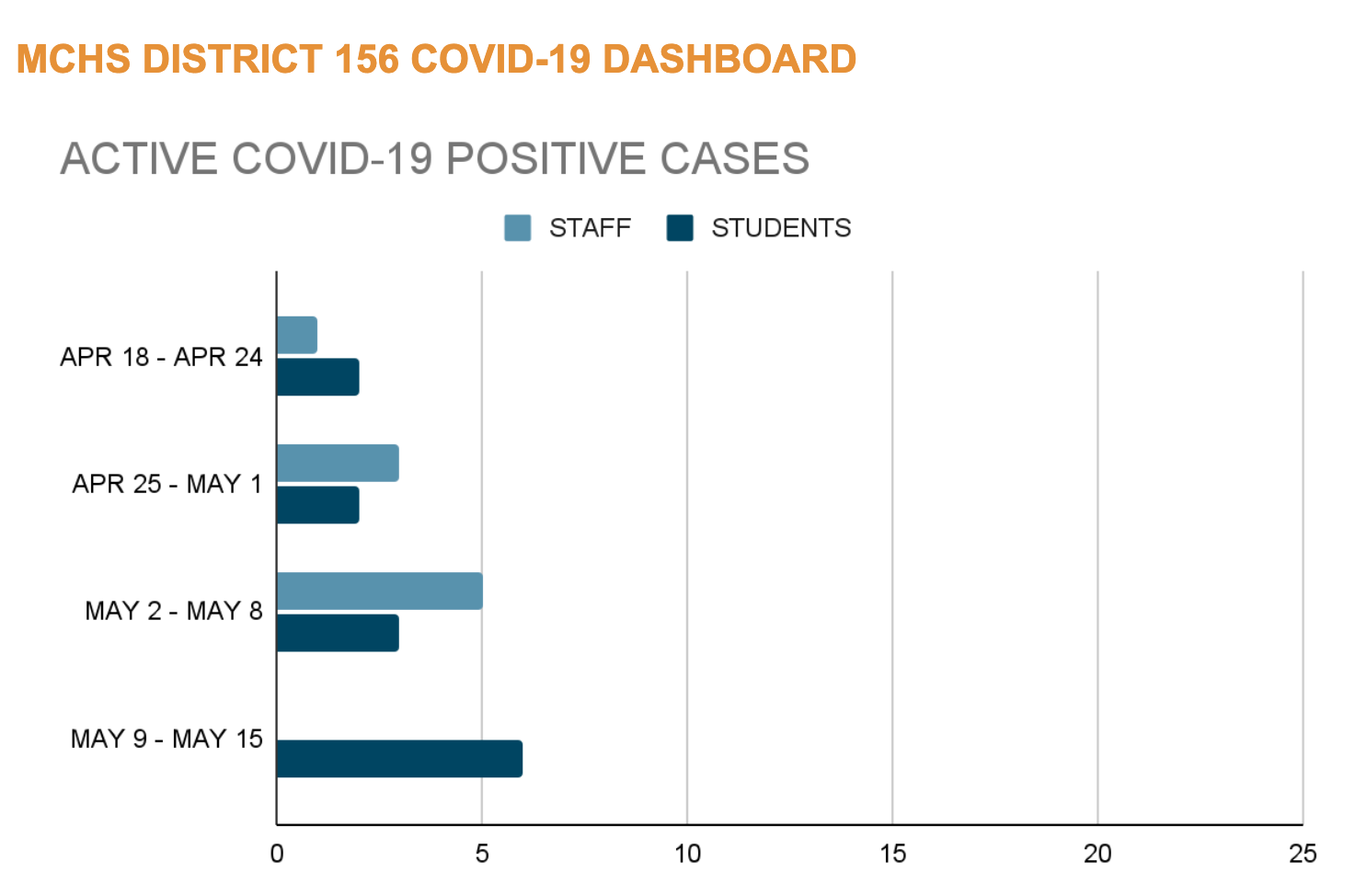 * Active COVID-19 Positive Cases refers to active COVID-19 cases currently in isolation.
*The district will update the dashboard weekly on Wednesday.
*Exclusion Number refers to the total number of students or staff who are currently in quarantine (close contact) or isolation.
*The district will update the dashboard weekly on Wednesday.