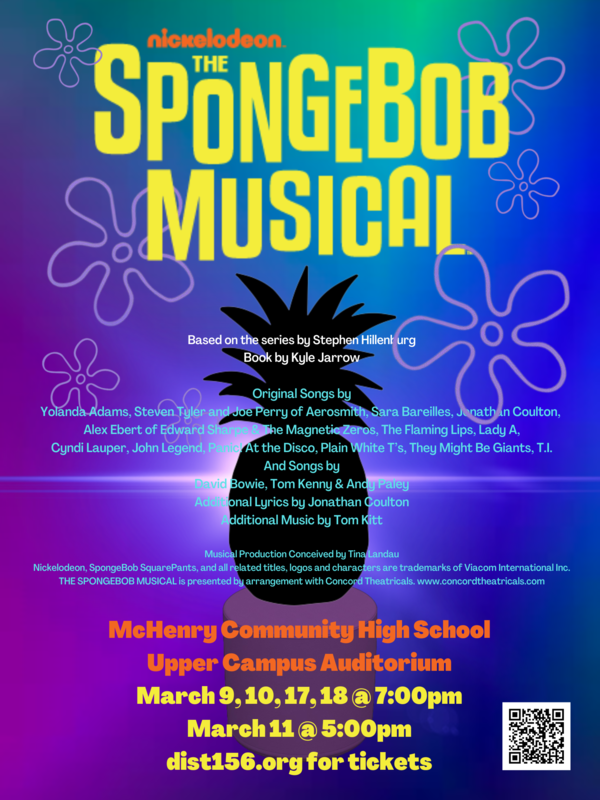 Tickets are now on sale for McHenry Community High School's production of "The SpongeBob Musical," an all-singing and all-dancing show based on the beloved Nickelodeon classic cartoon character SpongeBob SquarePants and his Bikini Bottom friends.
Featuring music from more than 25 artists and bands, the production takes a dive into the deep-sea world of SpongeBob when he and his friends discover that a volcano is threatening their undersea world. As the friends work together against destruction, an unexpected hero emerges to save the day.
Performances take place at 7 p.m. March 9-10 and 17-18, and at 5 p.m. March 11 in the auditorium at Upper Campus, 4716 W. Crystal Lake Road, McHenry.
Director Andrew Hillier told the Warrior Weekly that is a great idea to include music from popular artists in a musical featuring a beloved cartoon character. Many cast members said they are able to relive their childhood experience watching SpongeBob on TV.
"There's so much variety in this," Hillier said. "I'm kind of excited to see how the cast figures out the humor in the script and learns to play off of it."
Tickets are $10.50 for adults: $8.50 for students and senior citizens. Purchase tickets here: https://www.vancoevents.com/us/events/landing/29908.
Seats can be selected during purchase.
Cast List
| | |
| --- | --- |
| Eugene Krabs | James Mihevc |
| Patrick Star | Jamison Shea |
| Sandy Cheeks | Alyssa Thomas |
| Sheldon J. Plankton | Caleb Bone |
| Spongebob Squarepants | Kadin Henige |
| Squidward | Hannah Covalt |
| Karen the Computer | Teagan Needham |
| Larry the Lobster | Lex Bach |
| Mrs. Puff | KC Carlson |
| Old Man Jenkins | Ren Groves |
| Patchy the Pirate | Ed Riley Rosales |
| Pearl Krabs | Alayna Majkrzak |
| Perch Perkins | Chase Gray |
| The Electric Skates | Charlie Miller |
| | Kaden Schroeder |
| | Hugo Vidal |
| The Mayor of Bikini Bottom | Sabrina Glosson |
| Security Guards | Jonathon Carlson |
| | Kiernan Ecklund |
| Girl Fish Trio | Rachel Kaminski |
| | Chaeylah Maldonado |
| | Lacey Thompson |
| Featured Dancers | Apryl Hanneman |
| | Raegan DuHamel |
| | Natalie Haughey |
| | Paulina Borowski |
| Ensemble | Jonathon Carlson |
| | Kayleigh DeGeorge |
| | Christine Duckworth |
| | Kiernan Ecklund |
| | Alex Gonzalez |
| | Caiden Riedlinger |
| | Joseph Sacramento |
| | Aamon Shields |
| | Yaneli Solorio |
| | Parker Thielsen |
| | O'rion West |