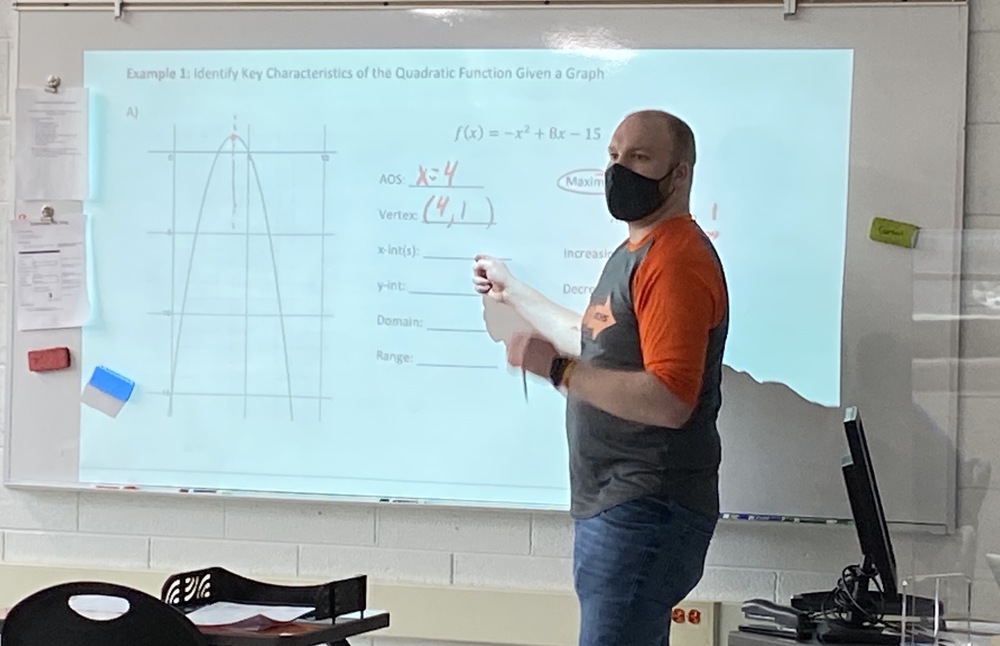 Staff Member of the Month: Curlott finds the good during challenging year
Amy Maciaszek
Thursday, April 15, 2021
Perhaps the past year hasn't been all bad. In fact, for McHenry High School math Instructor Anthony Curlott, several positives have emerged.
He's noticed good changes in his students who have developed important life skills such as self-advocacy, resilience and flexibility -- things that will serve them well after high school
"Those are the positives I want them to take with them after this crazy year," Curlott said. "I have high expectations for them."

His effort to stay positive in the midst of a worldwide pandemic was mentioned more than once as students and staff celebrated his selection as East Campus Staff Member of the Month for February. In addition to teaching, he is active in student life by helping with Student Council and frequently greeting students in the morning.
Freshman Rachel Krey said Curlott has been very helpful with all of the learning format changes throughout the past year. She said that has been so important as students new to high school had to learn online.
"He has really helped me out with any questions for math that I have and is a very, very nice person," she said. "He really does care about his job."
Curlott said he's made use of breakout rooms in Zoom to allow students to get into small groups to work on math material. Math is often easier to digest when students are able to collaborate, he said.
During normal school time, desks in the classroom are arranged in "pods" so several students can work together. Having that collaboration was a challenge during digital learning and even when students are in-person since social distance needs to be maintained.
Breaking through the math stigma is something that Curlott strives to do as a teacher. He never wants to have a student think that they just don't "get" math.
"Everyone is a math person. It is just unlocking it," Curlott said.
This is Curlott's fifth year in McHenry. A native of the Quad Cities area in the western part of the state, Curlott started right after getting his bachelor's degree in mathematics from Western Illinois University. He is planning to pursue a master's degree, either in math education or education leadership.
The MCHS Staff Member of the Month program honors a staff member from both East Campus and West Campus each month during the school year. Thanks to the support from Meat and Potato Eatery and Brunch Cafe, each award recipient receives a gift certificate as well as a plaque.
To learn more about the program, click here. To make a nomination, click here.
Click here to see the video announcement.