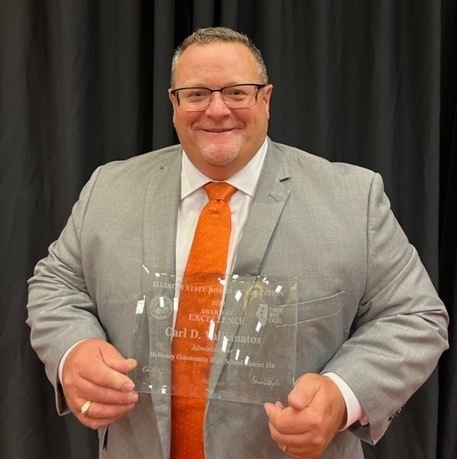 Carl Vallianatos, McHenry Community High School District 156 assistant superintendent for learning and innovation, was one of 210 Illinois educators, staff and volunteers recognized Saturday with Those Who Excel Awards from the Illinois State Board of Education.
Gov. Pritzker was among the speakers at the banquet to celebrate those who go above and beyond to support public education. In addition to Those Who Excel Awards, regional and Illinois Teacher of the Year winners were also recognized.
The 48th annual Those Who Excel and Illinois Teacher of the Year banquet was held in-person for the first time since 2019. This year's event was held at the Bloomington-Normal Marriott Hotel and Convention Center.
"This event symbolizes Illinois' commitment to and appreciation of its amazing educators," said State Superintendent of Education Dr. Carmen I. Ayala, one of several speakers at the banquet.
"We are so excited to be able to host this year's banquet in person and celebrate our teachers for all they do."
Vallianatos was recognized specifically for being instrumental in the planning and building of a $44 million improvement project for McHenry Community High School that includes a centerpiece 70,000-square-foot Center for Science, Technology and Industry. The center, opened in 2021, provides advanced Career and Technical Education lab spaces along with new math and science classrooms.