A far-reaching plan to transform an area along the Fox River in McHenry into a multi-purpose outdoor entertainment and retail spot is turning into a unique learning experience for McHenry Community High School students.
Through a partnership between the high school, the city of McHenry, the McHenry Area Chamber of Commerce and many others, the revitalization of Miller Point at the McHenry Riverwalk includes 10 small retail shops that will be built by high school construction students and rented to new and emerging businesses. The plan also calls for a small splash park, public restrooms and an outdoor live entertainment amphitheater.
"We think it's going to be a little crown jewel for McHenry," said Molly Ostap, chamber executive director. "We don't leverage the water as much as we should."
The chamber will handle filling and maintaining the retail space, while high school students are also helping with branding and marketing for the project. A Riverwalk committee is raising funds for the project, and Mayor Wayne Jett's private Rise Up Foundation is supporting it.
Splash Into Country concerts are planned for Sept. 16 and Sept. 17 to help fund the project, hosted by the Rise Up Foundation. Headliners are Dustin Lynch and Brad Paisley.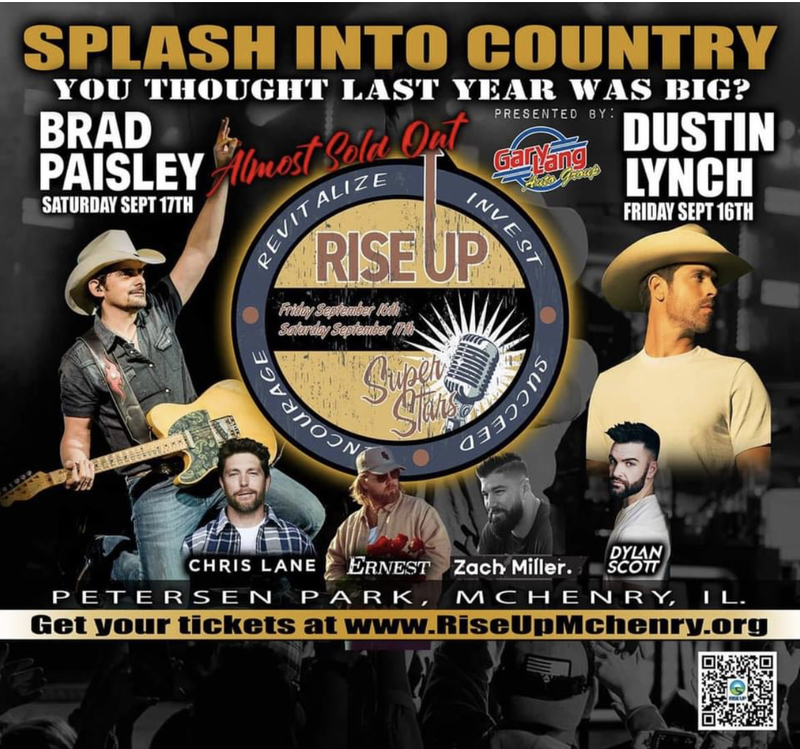 Visit the Rise Up website for more details and to order tickets.
"It's not just about a concert. It's about making McHenry a nicer place to live, work and play," Jett said.
McHenry Community High School students have already started building a prototype "tiny shop" to use as a model. The 10 shops will be in the southwest corner of the property, and business leaders hope this leads to further collaborations with the downtown business community.
"I'm so excited for all of the changes that are coming," said Michelle Streit, who operates All Marine's Retro Rentals at Miller Point and belongs to the McHenry Riverwalk Foundation.
"What an amazing experience for these students."
Streit, who also owns Barrington Boat Club in addition to businesses in McHenry and Wauconda, , said it is unusual to see such strong partnerships between so many different public and private groups with an interest in the property.
Ostap said the project is moving forward quickly as the chamber opens applications for businesses interested in the tiny shops. Organizers hope to have businesses selected by December to prepare for a May 2023 opening.
Also, this fall, site work will start, including grading and building the public restrooms. Many businesses are helping out, including local professionals lending expertise and support.
For more details on the plans and the timeline for development, visit the chamber of commerce website.