On the way out the door before holiday break, students race to the south doors to McHenry High School's Upper Campus. But not before fist-bumping with Art Delgadillo, the new head of security.
Before heading outside to check on the buses, Delgadillo checks his steps for the day. His step count is 13,267, which is a little more than 6 miles. For him, it is a typical day.
"That's just what we do," said Delgadillo, a retired Palatine Police Department officer and commander. "My number one priority is keeping everyone safe."
Delgadillo is the first Staff Member of the Month award recipient for the 2022-23 school year, an honor he received soon after starting in McHenry High School District 156.
Students and other school staff members noted how Delgadillo has gotten his MCHS career off to a good start by quickly forming relationships with students and colleagues alike. Delgadillo oversees a 10-person security department at Freshman Campus and Upper Campus and also acts as a liaison between security and administration as well as first responders.
"He brings a calm and compassionate demeanor yet a know-how to get things done and keep our school community safe," MCHS Principal Jeff Prickett said.
On a typical day, Delgadillo is a noticeable presence in the buildings, between meetings and walking through hallways to make sure students are where they need to be. After retiring from the Palatine Police Department in 2021, Delgadillo wasn't expecting to start a new career. But when he heard about the newly created position, he wanted to be part of working with students.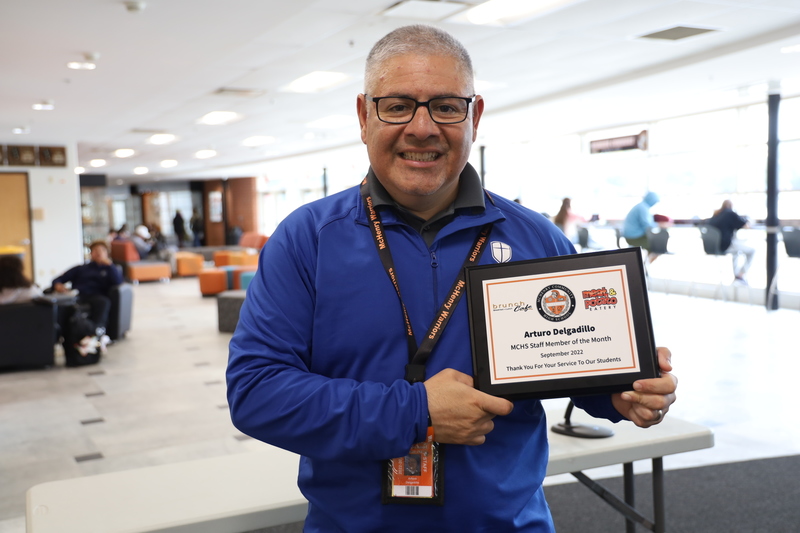 In Palatine, Delgadillo worked his way up in the Palatine Police Department from police assistant to detective to commander of neighborhood-based policing. His work included coordinating the department's relationships with schools, particularly high schools, in the Palatine area.
As an administrative sergeant, he coordinated school security and lockdown drills in addition to conducting public safety outreach programs within the community.
Delgadillo, who is also fluent in Spanish, said he is also looking forward to building up support systems in school to help students thrive.
To see the video unveiling the surprise award, click here.
The Staff Member of the Month program recognizes MCHS staff members who go above and beyond for the benefit of students. Thanks to the support from Meat and Potato Eatery and Brunch Cafe, each monthly winner receives a gift certificate as well as a plaque.
To learn more about the program, click here.