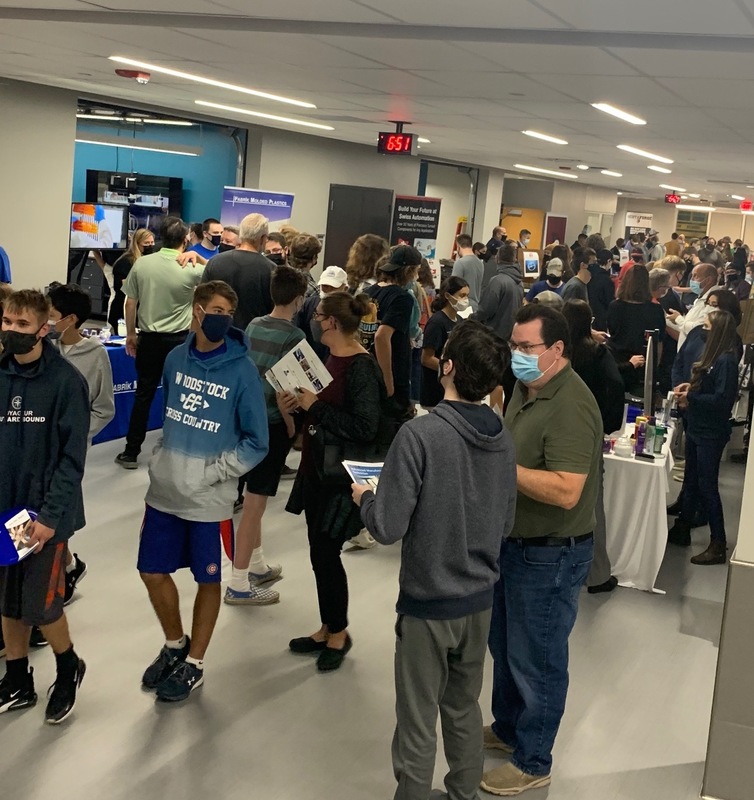 The first Manufacturing, Trades and Industry Career Expo in McHenry High School's new state-of-the-art facility drew students and business professionals from around McHenry County to share information about skilled technical career paths.
More than 200 people visited the new Center for Science, Technology and Industry at McHenry High School's Upper Campus on Oct. 6 with the goal of learning more about specialized careers along with the training and education available for those jobs.
At least 30 organizations, including McHenry High School and McHenry County College, set up displays and met with students and families to answer questions about workforce training.
"We were very excited to see how successful this year's MTI event was. We had a great student presence not only from McHenry High School but also from many high schools throughout the county," said Karyn Burmeister, instructor and chair of McHenry High School's Career and Technical Education division.
McHenry High School started hosting the expo in 2016 to introduce students to different career options and also help address the growing need for skilled workers. According to a press release from PeopleReady Skilled Trades, job postings in the skilled trades are growing faster than jobs can be filled.
Staff and students from McHenry High School's manufacturing, engineering, graphics and other programs displayed their work in new spaces for MTI visitors. McHenry County's Manufacturing Pathways Consortium, a partnership between businesses and educational institutions, offered information on a variety of career-training opportunities.
Businesses at MTI included Althoff Industries, Black Diamond, Fabrik Molded Plastics, Jessup Manufacturing Co., Miller Formless, and Scot Forge.
"Students could first explore what's out there, then look into how to get there," said Curtis Menke, McHenry High School's college and career counselor. "This is a county-wide initiative that McHenry High School hosts."
Carl Vallianatos, District 156 assistant superintendent for learning and innovation, said it was satisfying to see the first MTI event in the new center that was built to expand future-ready offerings for students. The center has advanced lab spaces for science, engineering, manufacturing, broadcast and more.